2023 Statistics Newsletter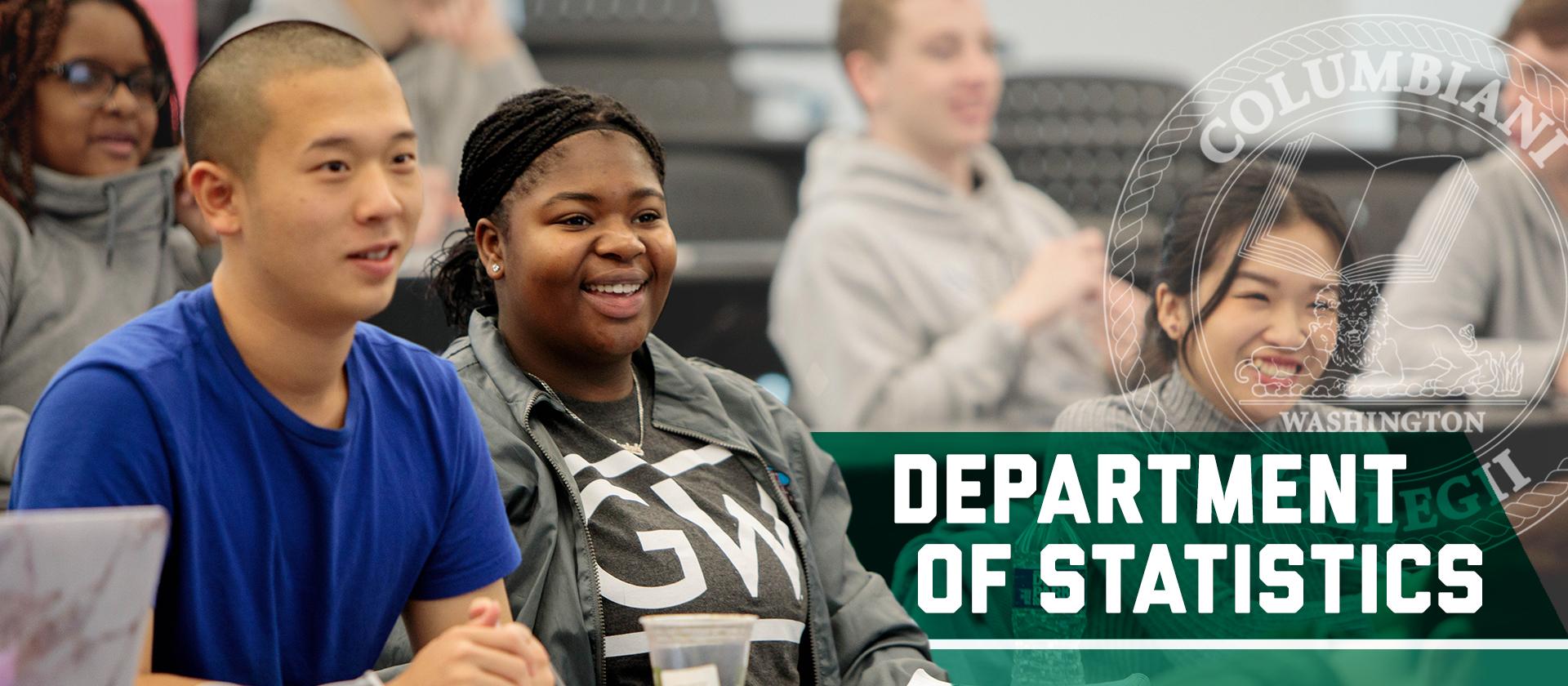 Message from the Chair
Department Spotlights
Department Kudos
Alumni Class Notes 
---
Message from the Chair
Greetings to all of our alumni from the George Washington University Department of Statistics!
I am delighted to share the latest updates from our department through this newsletter. After an unusual year of remote teaching and learning, we are back on campus and once again enjoying the benefits of in-person engagement and collaboration.
In this edition, you will find exciting highlights about the accomplishments of our students, faculty and staff, as well as the continued success stories of some of our alumni. We are immensely grateful for the generosity and support of those who have contributed their time and resources, enabling us to nurture the growth and achievements of our students while enhancing our academic programs. Your involvement has played a vital role in our success, and we extend our heartfelt appreciation.
We encourage you to remain connected and stay updated with future events, including the upcoming alumni reception at the Joint Statistical Meeting on August 8, 2023, from 6-8 pm at Intercontinental Toronto Centre, I-Ballroom A. It would be wonderful to see you there and catch up in person. A two-day symposium, titled "New Frontiers in Reliability and Risk Analysis," is scheduled to take place at GW on October 13-14, 2023, in honor of the late Dr. Nozer D. Singpurwalla, a former Professor in the Department of Statistics. We cordially invite you to attend this symposium or help us circulate the event announcement to interested individuals or groups. Additionally, we invite you to stay connected through our LinkedIn page and join the GW Statistics Alumni Group to continue fostering a strong network and sharing valuable insights.
Sincerely,
Huixia Judy Wang
Chair, Department of Statistics
---
Department Spotlights
Professor Gastwirth Speaks at Harvard University
In May 2023, Professor Joseph Gastwirth presented an invited talk, "The Important Role of L-Statistics in Measuring Economic Inequality," at the Harvard Statistics Department's conference in honor of the 100th birthday of Professor Herman Chernoff.
The talk described how expressing the numerator of the Gini coefficient, the most commonly used measure of income inequality, in terms of a linear combination of order statistics (L-statistic), led him to demonstrate that economic literature had erroneously thought that the measure was overly sensitive to changes in the middle of the distribution.
His 2017 article in Statistics and Public Policy has been the most read article since its inception. The talk also showed how theoretical results he developed with Professor Chernoff in the 1960's have been used to establish the sampling theory of the Gini coefficient and other important measures of income and wealth inequality.
In addition to his research on economic inequality and health disparities, Professor Gastwirth is very active in the area of legal statistics. His book Statistical Reasoning in Law and Public Policy and his work on the analysis of data on peremptory challenges, defining the relevant labor market for equal employment cases, have been cited in legal opinions and briefs. In their article in 2020 on the use of statistics to support the need for an affirmative action plan, Professors Gastwirth and Qing Pan answered two statistical questions raised by a well-known judge in a recent case.
Professor Zhang Promoted to Associate Professor
Professor Xiaoke Zhang was promoted to associate professor with tenure, effective fall 2022. His research focuses on functional data analysis, causal inference and reinforcement learning.
He joined the editorial board of Computational Statistics & Data Analysis as an associate editor. He gave a GW WOW Talk titled "Functional Data Analysis: From Correlation to Causation" in November 2023. He also received a CCAS Impact Award as the Principal Investigator (PI) to study personalized physical activity planning in December 2022.
With his student collaborator Rui Miao, Professor Zhang co-authored the papers "Proximal learning for individualized treatment regimes under unmeasured confounding" for the Journal of the American Statistical Association (Theory & Methods), and "Off-policy evaluation for episodic partially observable Markov decision processes under non-parametric models" for NeurIPS 2022. Professor Zhang chairs the department seminar committee. He was on sabbatical in spring 2023 during which he continued research on functional data analysis, causal inference and reinforcement learning.
---
Department Kudos
Doctoral students Sean Dalby, Gefei Lin, Han Su and Xinyue Zhao received the 2023 Student Travel Award from Section U, the Statistics section of the American Association for the Advancement of Science. Dalby, a doctoral student of Professors Joseph Gastwirth and Huixia Judy Wang, also received the 2023 Lambert Graduate Stipend Award in Arts and Sciences.
Doctoral student Joshua Sparks was selected as a GW Philip J. Amsterdam Graduate Teaching Assistant Award Finalist.
Zhou Yang, a doctoral student of Professor Fang Jin, won the 2023 Minna Mirin Kullback Memorial Prize for Research and Scholarship, an annual award given by the department to recognize excellent research by GW PhD students in statistics or biostatistics.
Jiaqian Yu, a doctoral student of Professor Feifang Hu, was awarded the 2023 Fritz Scheuren Prize for Leadership and Service. This award is given annually to a full-time student majoring in statistics, in recognition of their exceptional leadership and service to the community.
Yi Zhang, a doctoral student of Professor Xiaoke Zhang, was awarded the 2023 Graduate Student Teaching Prize, recognizing his exceptional teaching skills and invaluable support to instructors as a graduate teaching assistant in statistics.
Professor Fang Jin received an Early Career Development Award from the National Science Foundation, commonly known as a CAREER Award. This award is one of the highest honors given by the NSF to early-career university faculty in science and engineering, and it is intended to advance the development of their research and careers. The award will provide five-year support totaling $550,000 for Prof. Jin's research on her proposal titled "CAREER: Unified Model-agnostic Interpretation Framework for Deep Predictive Models." Prof. Jin was also awarded the 2023 GW Cross Disciplinary Research Fund (CDRF) as the PI.
Professor Joshua Landon has been promoted to Associate Professor of Statistics.
Professor Zhaohai Li was honored at the GW 12th Annual Faculty Honors Ceremony as a Silver Anniversary Faculty for his 25 years of continuous full-time service.
Professor Hosam Mahmoud was selected to receive the 2023 Columbian Prize for Teaching and Mentoring Advanced Undergraduate Students. The Columbian Prize is awarded to a regular, full-time faculty member in the Columbian College of Arts and Sciences who demonstrates excellence in the teaching and mentoring of advanced undergraduate students.
Professor Huixia Judy Wang will deliver the Mitchell Lecture as part of the Distinguished Lecture Series at the University of Glasgow in June 2023. She will serve as a co-editor for Statistica Sinica starting from August 2023.
David Harrington commemorated his 20-year career milestone with GW in February 2023. We express our sincere gratitude to David for his invaluable contributions and unwavering dedication throughout his tenure in the department.
Distinguished GW Statistics alumni Dr. Susan Ellenberg, MPhil '76, PhD '80 (University of Pennsylvania); Dr. Kimberly Sellers, PhD '01 (Georgetown University); and Dr. Jeremy Wu, BA '74, MA '76, PhD '83 (retired), graciously visited the department in spring 2023 to share their expertise and experiences with our GW students and faculty.
---
Alumni Class Notes
Melissa Avery, BS '18, is an operations strategy specialist at Nestle S.A. in Vevey, Switzerland, optimizing the global manufacturing footprint and defining the future investment roadmap across categories.
Barbara Callahan, BA '67, splits her time between Palm Beach, Fla, and Quogue, Long Island.She and her husband are enjoying retirement.
Katherine Jones, BS '18, works on projects in antitrust with a D.C.-based economics firm. She will be moving to Charlottesville, Va., this summer to attend UVA for her PhD in economics.
James Larkin, BA '18, is an oil and gas equity research analyst for Piper Sandler. He recently passed all three levels of the CFA and achieved the CFA designation.
Xiang Li, PhD '22, is a principal data scientist with Capital One.
Samuel Luxenberg, PhD '22, is a data scientist with Liberty Mutual Insurance.
Xin Ma, MS '20, worked in the pharmaceutical industry for two years post-graduation and is currently a PhD student in biostatistics at University of Florida.
Yongxiao Ma, MS '23, is in China and is finding a job in Shanghai.
Alexander Melton, BS '16, joined Fingerprint, a Series-B start-up focused on device intelligence.
Rui Miao, PhD '22, is a postdoctoral researcher with UC Irvine.
Shalaka Pradhan, MS '19, is a principal quantitative analyst at Capital One. She is based in Washington, D.C.
Vimal Rao, MS '14, is a faculty member at the University of Illinois Department of Statistics.
Connor Rosenberg, BA '19, is with the research & development team for the Chicago Cubs. He is responsible for building custom models that drive player acquisition, player development and in-game optimization. Go Cubs Go!
Kimberly Sellers, PhD '01, authored the research monograph The Conway-Maxwell-Poisson Distribution (Cambridge University Press, 2023). This first comprehensive reference on the subject includes illustrative statistical computing examples in R. She was also elected a Fellow of the Association for Women in Mathematics. Kimberly will join the Department for Statistics as the Department Head at NC State University in August 2023.
Wu Xue, PhD '22, is a research scientist with Meta.